برنامج بكسل ستوديو | Pixarra Pixel Studio 4.17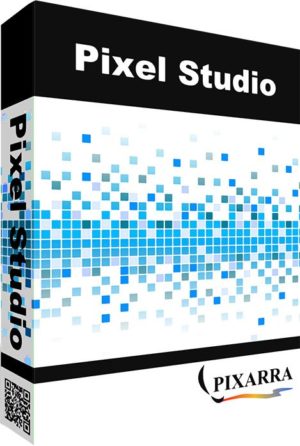 658
NOUR
الاقسام :
التصنيفات :

برنامج بكسل ستوديو | Pixarra Pixel Studio
يتبع برنامج Pixel Studio النقاط القوية الرئيسية من جميع منتجات برامج الفنان Pixarra TwistedBrush ولكن مع التركيز على فن البكسل.
هذا الفن ، الذي يطلق عليه أحيانًا الرجعية ، لا يحاول إخفاء وحدات البكسل وأحجام الصور غالبًا ما تكون صغيرة جدًا.
مفيد كأداة لإنشاء الرموز ورسومات الكومبيوتر والصور الصغيرة الأخرى للألعاب ومواقع الويب ولكن أيضًا للفن بمفرده.
ليس من المستغرب أن يكون فن البكسل شائعًا ، فهو ببساطة ممتع!
وفى هذه التدوينة نقدم لكم آخر إصدار من البرنامج مرفق معه التفعيل.
_
برنامج بكسل ستوديو | Pixarra Pixel Studio 4.17
_
Description:
Pixel Studio follows the key strong points from all the of the Pixarra TwistedBrush artist software products but with a focus on pixel art. This art, sometimes called retro, makes no attempt to hide pixels and sizes of images are often very small. Useful as utility for creating icons, sprites, and other small images for games and websites but also for art on its own. There is no surprise that pixel art is popular, it is simply fun!
Powerful Pixel Art Editing
The user interface of Pixel Studio is designed for efficiency and elegance. Power of over a decade of development in the TwistedBrush product line brought to focus on the single task of pixel art.
Specialized ArtSet for Pixel Art
TwistedBrush has always been known for its powerful and vast collection of brushes. The same is true for Pixel Studio. The program includes a collection of brushes designed just for pixel art.
Brush Variety
Choices are important in pixel art as in any art. Here are a few pixel drawing brushes
1. Pure pixel brush. Solid pixels are panted everywhere the cursor goes. This is a dab placement brush. Rather than drawing a line, a square or circle are drawn.
2. Anti-alias pure pixel. Same as previous but the pixels edges are smoothed.
3. Pixel brush that draws as a connected line. This is a straight line brush, solid and anti-aliased.
A remembered powerful brush in Pixel Studio is the auto mask fill brush. Draw pixels within an enclosed area without worrying about going outside of the lines. Even change colors and your area is remembered because a mask is magically created for you behind the scenes.
Quick Access Panels
The Color Management panel and the Brush Shortcut Panel are two panels you will use a lot. All the panels in Pixel Studio will automatically hide if they get in your way while painting. Manually hiding all panels is also possible with the F3 hotkey.
Quick Command Panel
The Quick Command panel gives you a configurable array of buttons you can keep close at hand while working. Resize and reshape the panel to your needs. Add, remove and move buttons to create the layout that works best for you. Quickly show or hide the panel with the[F4] hotkey. Right click to edit a button or add one to an empty slot.[Ctrl] + click to drag a button to a new location. As an added bonus there is some functionality exposed in the Quick Command panel that isn't available anywhere else in Pixel Studio.
Powerful Brush Effects System
Since User ArtSets are available you might be thinking where will you get new brushes from. There are a number of ways, user shared brushes in the Pixarra forum, brushes imported from Pro Studio, OR now you can edit brushes right in Luminance Studio with the powerful Brush Effects system from Pro Studio.
First an IMPORTANT NOTE: Editing brushes is NOT an easy task. There are over 500 different effects that can be combined in 28 effect layers with each effect processed with 100's of modifiers.
I think it's safe to say the Pixarra brush effects system makes for the most powerful brush engine in existence. Evidenced in the ability to draw simple lines or fully detailed tree with the same engine with a single stroke as can be seen in Tree Studio.
One of the common ways to use the Brush Effects panel is to tweak existing brushes in small ways to meet your needs and you can do this right in Pixel Studio and save them to the User ArtSets.
Layers
Easy access support for layers are in Pixel Studio. The idea is to keep your work flow simple and fast. A simple single click to create a layer with no scrolling. Right click a layer for additional options. Drag layers to rearrange them.
Other Features
– 64 bit color painting system for the smoothest blends available anywhere.
– World's most powerful and flexible brush engine with the Pixarra brush effects system
– Automatic saving multiple copies of your work in progress.
– Brush compatibility with other Pixarra Studio products.
– Tracing paper to use as a guide.
– Up to 9 floating reference Image panels to hold reference photos when working on your art.
– Sketchbook system that automatically saves your work to your sketchbook.
– Switching pages in your book with a single key press (Page Up or Page Down)
– Saving your work to a range of standard image formats.
– Work with symmetry with all the standard Pixel Studio brushes.
– And many more features!
What's New
– Added: Save Pixel Art option from File menu. Exported at zoom level witih grid.
– Added: Import ArtSet option from the File menu.
– Added: Brush Effect "Smooth Angle".
– Added: Brush effect "pRend DabEnd" added. Renders the particle only at the end of life with a dab.
– Added: Brush effects "Add Var 1" – "Add Var 10"
– Added: Brush effects "Sub Var 1" – "Sub Var 10"
– Added: Brush effect "3D Shadow Opacity" added. Impacts the other shadow effects.
– Added: Brush effect "VM Percentage 10000" added.
– Added: Preferences are now exposed via the Edit menu.
– Added: Tablet compatibility flag added in Preferences dialog.
– Added: Paper textures from the Page menu.
– Added: Paper Color from the Page menu.
– Added: Edit Color dialog added to Quick Command option.
– Added: New Utility Combo Palette.
– Added: Mouse wheel support for lists.
– Added: Hot Key F2 to toggle all dialogs.
– Added: Menu option to toggle all dialogs.
– Added: The comma (,) hot key allows for a temporary toggling of full screen mode.
– Added: The number keys 1-0 select brushes 1 – 10 from shortcuts panel.
– Added: The / key pops up the modifiers panel.
– Added: Ctrl X key performs a cut action.
– Added: The M key randomizes the selected brush.
– Added: Shape modifier ArtSet
– Added: Brush Size modifier ArtSet
– Added: Brush Rotation modifier ArtSet
– Added: Texture modifier ArtSet
– Added: Color modifier ArtSet
– Added: Effects modifier ArtSet
– Added: Brush Effect "Auto apply mode".
– Added: Brush Select option added to brush shortcuts popup menu.
– Improved: Increased number of brush blender bristles from 20 to 100!
– Improved: Increase the font size in the Brush Effects panel
– Improved: Up to 30 layers are now available!
– Improved: Layers UI improvements.
– Improved: Page Explorer UI improvements.
– Improved: Color Selection improvements.
– Improved: Brush selection Improvements.
– Improved: All dialogs converted to use color themes.
– Improved: Color themes and icon updates.
– Improved: Font size improvements to better match higher resolutions.
– Improved: Ignore leading or trailing spaces in license key entry.
– Changed: Allow brush sizes up to 99. (Previously max size was 25).
– Changed: Changed: Allow all Zoom levels up to 3200%. (Previously restricted zooming out to 1200%)
– Changed: F10 is used to open Page Explorer rather than F2.
– Changed: Brush Effect "VM Percentage 1000" to allow value to extend beyond the limit of a brush effect amount.
– Changed: Ctrl + Click on shortcut brush will open the Brush Select dialog.
– Fixed: When the "Copy Page" option is selected, the Explorer window opens up.
– Fixed: Some menus had an extra horizontal divider.
– Fixed: Quick Command options for many tools were missing.
– Fixed: Quick Command option for displaying clips panel was missing.
– Fixed: Tools with button tool options were triggered on button down rather than button up.
– Fixed: Program crash when clicking a scroll button without a full list of items in list.
– Fixed: The Random button on the Brush Control dialog is randomizing twice.
– Fixed: Hot Key F1 was opening Page Explore, it should not.
– Fixed: Text Brush effect "text clip repeat" was not working.
– Fixed: Brush Effect Reset not working above level 20.
_
مساحة البرنامج 30 ميجا تقريبا.
تحميل موفق للجميع
انتهى الموضوع
كلمات دلالية :
تحميل برنامج بكسل ستوديو Pixarra Pixel Studio , حمل برابط مباشر برنامج بكسل ستوديو Pixarra Pixel Studio ,حمل مجانا مع التفعيل برنامج بكسل ستوديو Pixarra Pixel Studio , آخر إصدار من برنامج بكسل ستوديو Pixarra Pixel Studio , تحميل Pixarra Pixel Studio , تنزيل Pixarra Pixel Studio , حمل برابط واحد مباشر Pixarra Pixel Studio ,
_
شاهد أيضاً :
_
تابع أحدث و أفضل البرامج من قسم البرامج من هنا
كما يمكنك متابعتنا على صفحة فارس الاسطوانات على الفيسبوك
مع تحيات موقع فارس الاسطوانات